Organizational Members in the Community!
by Laura Orella, Development + Membership Coordinator 
It is difficult to live in Seattle without hearing about the Bill & Melinda Gates Foundation, either as a global philanthropic leader, through Bill Gates' notoriety, or by seeing the large foundation campus. But, if you are like me, you probably haven't spent the time to walk through the Foundation's Visitor Center.
This Is Your Chance
The Bill & Melinda Gates Foundation is hosting a free launch party for the rebrand of its Visitor Center, now known as the Discovery Center. The Discovery Center will be unveiling a new exhibit at the launch party, giving you early access to the action-oriented exhibits. This event will be full of 'games for good', live music, dancing, drinks provided by Optimism Brewing Company, and a chance to meet devoted local partners doing great work in the community.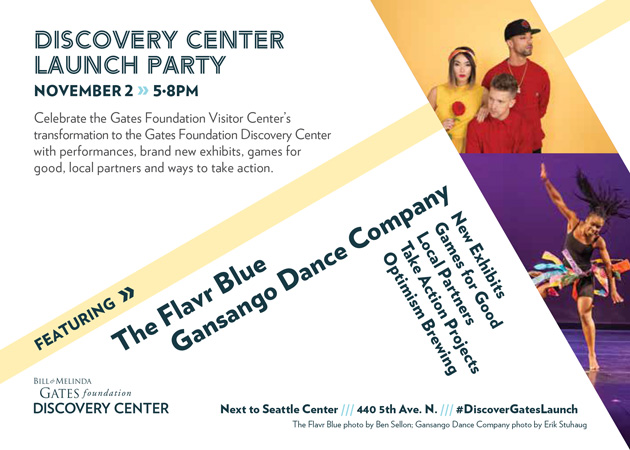 Inside the Discovery Center
Last week, I had the opportunity to tour the Discovery Center to see the changes being made to the space before the Launch Party on November 2nd. When you enter the venue, there is an interactive wall that lets you filter by cause, community issue, and region to view updates about organizations taking action on the many issues that the Foundation supports. This exhibit is part of Bill & Melinda Gates Foundation's larger work not only to educate visitors about these issues but to inspire them to take action after they leave. There are small rotating projects that visitors can work on on-site that have far-reaching benefits. Wwhen I toured, project stations were set up for visitors to create hygiene kits for girls across the world to use.
Women for Women
Take a look through my favorite exhibit, Women Hold Up Half the Sky, inspired by Nicholas D. Kristof and Sheryl WuDunn's critically-acclaimed book, Half the Sky: Turning Oppression into Opportunity for Women Worldwide. The exhibit looks at drastic disparities in health care, financial independence, and education for women across the world and highlights stories of women who have improved their lives and the lives of the women around them.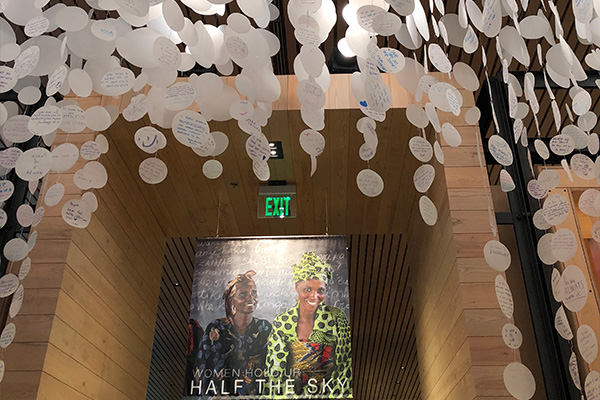 The book takes stories of injustices perpetrated against women and creates an incredibly uplifting call-to-action, showing the small actions that can be taken to improve circumstances for women worldwide drastically. In the exhibit, you get a sense of action through the small and immediate steps taken at the Discovery Center too, as well as through the thousands of hand-written wishes hanging down from the ceiling from previous visitors sharing their hopes for women and commitment to improving circumstances for women.