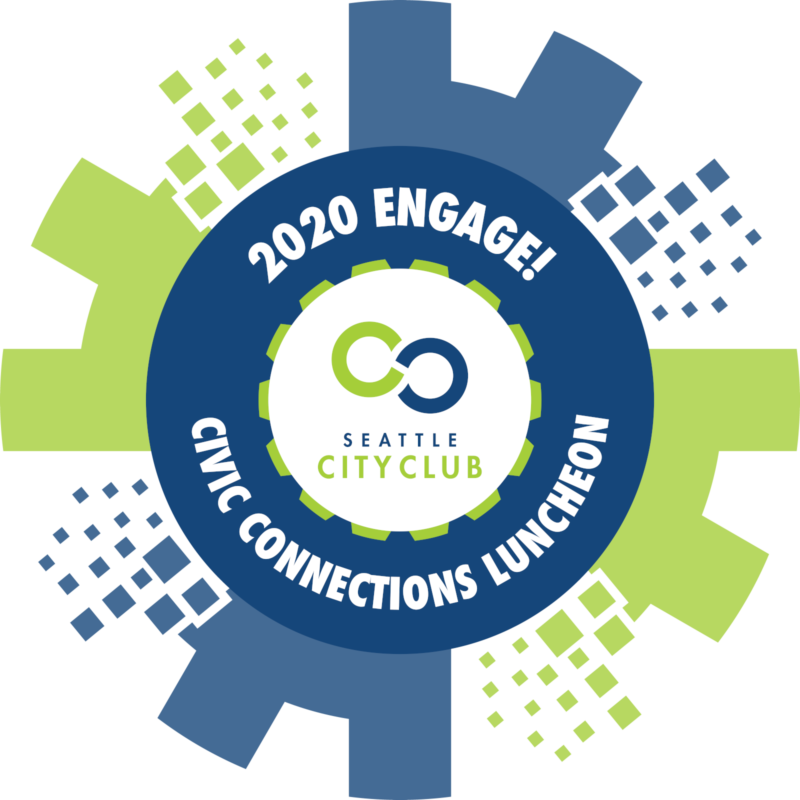 Postponed: Seattle CityClub's 2020 Annual Fundraising Luncheon
In accordance with the health and safety guidelines in place amid the ongoing pandemic, Seattle CityClub has postponed the Engage! Civic Connections Luncheon. The annual fundraiser, originally scheduled as a live event in May, will be rescheduled (possibly as a virtual event) to the fall.
Updates to come!
2020 Annual Benefit details
Coming soon!

Seattle CityClub's 2019 Annual Benefit Luncheon
---
Thank's to the generosity of everyone at our Annual Benefit, Seattle CityClub raised $173,467 to support our mission of informing and inspiring civic engagement. We are very grateful!
Thanks to the support of the generous donors and supporters at our Benefit, programs like Civic Cocktail, Civic Boot Camp, and the WA State Debate Coalition can continue to serve our community by informing and engaging each of us in our democracy. Democracy starts with you!
---
Supporting Sponsors

Contributing Sponsors
Comcast NBCUniversal    |    Stokes Lawrence   |   Uber
Table Sponsors
Davis Wright Tremaine    |   ECONorthwest    |     Junior League of Seattle
Lane Powell   |    Puget Sound Energy   |    Seattle Chamber of Commerce
Seattle University    |    William D. Ruckelshaus Center
About Our Benefit
The Benefit is Seattle CityClub's only annual fundraising event, supporting our mission to inform and engage residents with community leaders and provide programs that bridge politics, professions, generations, cultures and socioeconomic backgrounds.