The Deferred Action for Childhood Arrivals (DACA) is an American immigration policy allowing some individuals who entered the country as minors, and had either entered or remained in the country illegally, to receive a renewable two-year period of deferred action from deportation and to be eligible for a work permit. As of 2017, approximately 800,000 individuals—referred to as Dreamers after the DREAM Act bill—were enrolled in the program created by DACA. The policy was established by the Obama administration in June 2012 and rescinded by the Trump administration in September 2017.
How important has DACA been for you and other Dreamers?
Ray: DACA has opened up many opportunities for myself and other immigrant youth across the US. I had the opportunity to graduate from the University of Washington and immediately enter the workforce. My first job after college was as an admissions advisor for the University of WA Bothell Campus. My ability to have a livable job with benefits allowed me to provide for myself, my family, and have healthcare benefits through my employer. Even with the Affordable Care Act, DACA recipients are not eligible to receive healthcare coverage unless it's through their employers.
DACA provided me and many other dreamers with a sense of security and normalcy. Many of us have been in the US for over a decade but have always lived in fear of the authorities due to our immigration status. DACA also enabled us to take on new opportunities, such as studying abroad (by filing and paying for an advance parole application), receiving our first form of identification (driver license), or even opening a bank account. Of course, DACA was only a temporary solution. and many of us were aware of that, constantly living and planning our lives in two year increments.
What is the biggest misconception about DACA and Dreamers?
Ray: The biggest misconception about DACA and undocumented folks in general is that people can adjust their legal status if they just go file paperwork and get in line. This is definitely not true as immigration laws have not evolved to keep up with the globalization of our world. Adjusting your immigration status depends on many factors including, which country you come from, your age, economic status, mental capacity, marital status, and potentially even your geographic location in the US due to the availability of lawyers in your area.
Several local businesses, including Amazon, Starbucks and Microsoft, have come out in support of DACA. How does their support impact your work?
Ray: It is highly important to have as many entities expressing their support as possible, not only for DACA but for immigrants as a whole. Their vocal support allows for the general public, who may be unfamiliar with the issue, to understand that immigration affects millions of people.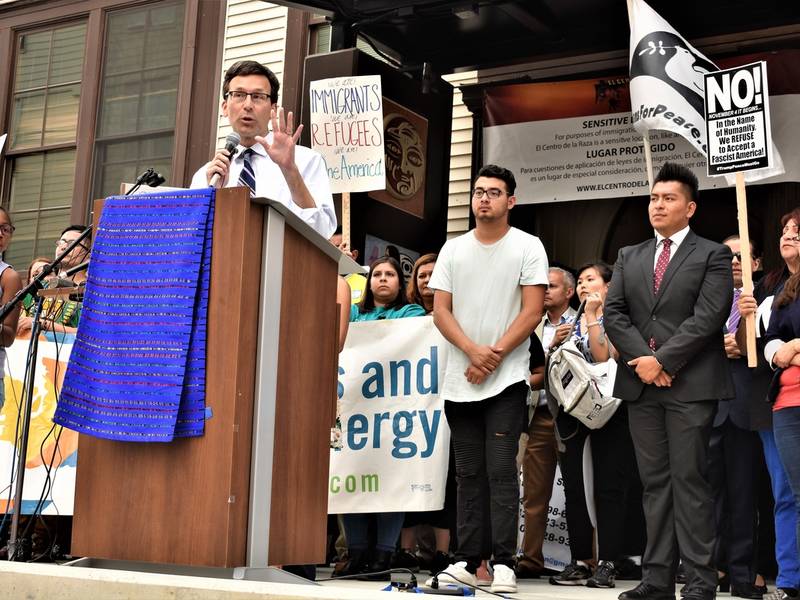 Seattle is about to elect a new mayor in November. What advice would you give them in regards to DACA and Dreamers?
Ray: Our new Seattle Mayor needs to understand that the issue of undocumented immigration  impacts everyone in the city, as undocumented immigrants are ingrained within the fabric of our community. We work in service jobs, professional jobs, and even own our own businesses. The most important thing to remember is that having immigrant-friendly policies in our city and state impacts everyone's public safety, since immigrants are known to be the least likely to commit a crime, but are hesitant to engage with authorities because of their immigration status.
As a member of the Seattle LGBTQ Commission and advocate for immigrant rights, you are a very public figure. What is your motivation for putting yourself out there as an undocumented resident?
Ray: My motivation for advocating for both my immigrant and queer identity is to bring visibility to these issues, ensure representation within the political system, and ultimately get to solutions for the various challenges affecting these communities.
You recently spoke at our Civic Boot Camp focused on immigration and provided advice to participants on how to support the immigrant community. What action should people take to support DACA and Dreamers in light of recent events?
Ray: I believe the general public needs to understand the complexities of immigration before we can take action. The issues that have been created in the US with our undocumented population is because of profits. Not to mention the role that special interests have played within our political system and the disconnect caused by elected officials who are unwilling to pass solutions.
Here are a few actions you can take:
Vote for candidates that are accountable to and knowledgeable about these communities.

Don't side with the oppressor—ask questions, learn, and promote leaders affected by the issue.

Watch documentaries such as

The Dream is Now

,

Documented

,

Forbidden

(Undocumented & Queer living in Rural America) and

Indivisible

(A journey about undocumented youth reuniting with their parents at the US-Mexico border).

Try having uncomfortable conversations with your friends and family about racism, immigration, LGBTQ issues, and other "controversial" issues.